Stage Deck & Stage Lifts – European Games – Baku 2015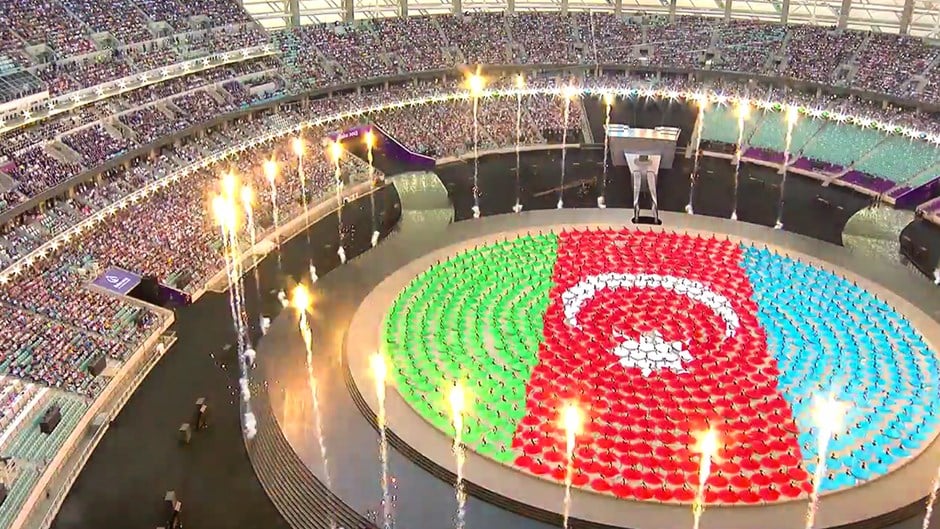 It is with great pride that Show-Canada largely contributed, with its Stage One partner, to the European Games opening Ceremonies: the sporting dream of Baku. The first edition of this multi-sport competition organized by 49 European Olympic Committees, opened in Baku, Azerbaïdjan, on June 12th, 2015.

Our experienced team produced the majestic scene of the opening ceremony. The main stage had a diameter of 62 meters extending as far as 100 meters in diameter, including the outer-stage. The protocol stage featured mechanically controlled flag poles which created a "blowing in the wind" effect. This main stage included a decorative scenic finish combined with 2,000 automated grass mechanisms emerging from the ground and a full stage flame fire effect in the shape of a "burning man" (large ignited human shaped effigy).
The stage contained 22 custom built stage lifts which formed a 13 meter tall "mountain", 43 manually operated trap doors and 450 m2 lake effect where the stage was filled with water. And finally, our specialists successfully dismantled the entire structure in less than 75 hours in order to leave room for the competitions who took place on the fields inside the stadium.