Chandelier – Wynn Macau Kinetic Atrium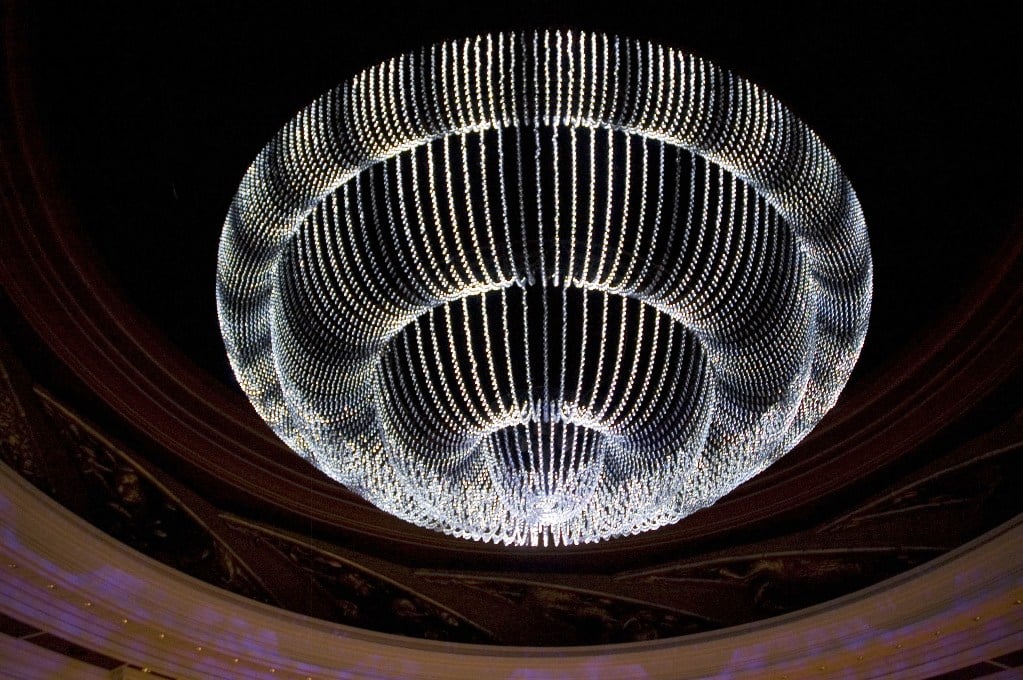 The Chandelier for the Kinetic Atrium is a 36 ft. diameter automated and illuminated chandelier. The Chandelier is composed of three ring structures held and retracted in mid-air by the 49 ft. diameter Tripod.  The Chandelier hosts a total of 13 588 crystals mounted on 450 strands.  The Chandelier is programmed to descend 30'-9-1/2" (9385mm), deploying its rings downward and retracting back to its original position under the tripod.
The Tripod is suspended from the ceiling beams of the building and sits at elevation 88.167ft, the highest level of the effect.  Its structure is equipped with the rigging system for the chandelier, lighting support pipes, and a hand railing.  The rigging system consists of three (3) tripod cable drum winches, each of which are powered by a SEW Eurodrive gear motor with two brakes. The winches dead haul the three trusses of the chandelier with six (6) ¼" wire ropes each. The winches are programmed to deploy the chandelier to its low trim, and retract it to a collapsed storage position. Limit switches prevent the winches from over-travel.