Carousel, Vol-à-Quatre & Acrobatic winch – Odysseo, Cavalia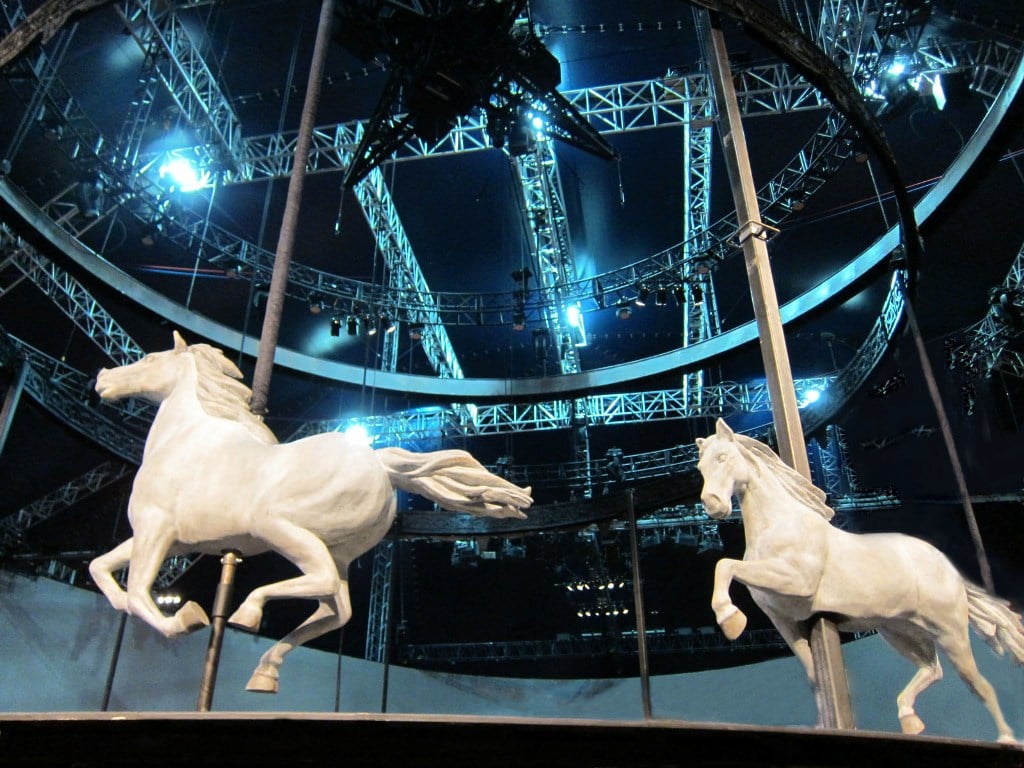 Design, manufacture and installation of components for the 2nd art show Cavalia "Odysséo".
The "Carrousel" was designed and constructed to meet the artistic and technical requirements.  This is a merry-go-round type carousel, composed of three different artistic elements that are three (3) rotating masts, three (3) horses with an up and down motion and three (3) fixed horses. The fixed horses also act as structural columns. The structure of the carousel is made of steel and alumium. Three motor rotates the carousel. Each rotating mast is driven by a motor and the up and down motion of the horses is provided by an aluminum track.
The "Vol-à-Quatre" was also designed and built to meet the artistic and technical requirements.  It consists of an aluminum frame which includes four arms. The chassis supports five acrobatic winches. Each winch assembly / arm can withstand 200lbs and "fly" an artist at a maximum speed of 10 ft/sec. The outer diameter of "Vol-à-Quatre" is 22'2 "/ 6.75m and its mounting bearing allows rotation of 6.5 rpm. Rotation is produced by the movement of the horses and artists only.
The acrobatic winch is designed to be used directly with the artists.  It has a capacity of 400 pounds at a speed of 10 ft / sec. It is equipped with a zero fleet angle device, a variable speed controler, a primary brake mounted directly on the motor and an electro magnetic brake mounted directly on the drum shaft.